Sioux City Doctor Says Ebola Outbreak Shows "Sacrificial" Side of Medicine
Aug 26, 2014 03:15PM ● By MED Magazine
By Alex Strauss
The plight of doctors battling the recent outbreak of Ebola in West Africa – the worst outbreak of the virus in history – has focused attention on the very real risks that healthcare workers face when they choose to do medical missions work, especially in developing countries. Liberia alone has lost at least three doctors to the virus and 32 health workers, and, in two high-profile cases, two American doctors were flown to the US from West Africa, also suffering with Ebola.
Infectious Disease Specialist Bertha Ayi, MD, head of infection control at Mercy Medical Center and a native of Ghana, has herself been involved in medical missions. As a medical student in Ghana, Dr. Ayi travelled into remote villages with Christian Medical Fellowship, to treat illnesses ranging from malaria to TB, pneumonia, elephantiasis and yaws.
"Most of the things we were treating in this situation were not things that were passed from person to person, although some were," says Dr. Ayi. "When I feel there is a risk that someone has a communicable illness, I am very particular about wearing protective equipment."
There is no doubt that doctors working in West Africa knew the risks of mission work and were as careful as possible to protect themselves against Ebola using what they had. But Ayi says the outbreak emphasizes the fact that there are always limits when practicing in a third-word setting.
"It is next to impossible in most hospitals in Africa for people to protect themselves to the level that needs to happen when you are dealing with something like Ebola," she says. "You really need support from organizations like WHO or the CDC to provide enough of things like gloves, masks, gowns, materials for proper disposal of infected bodies, etc."
But even in the absence of these things, Ayi says, for doctors working in dangerous situations, it is not a question of underestimating or dismissing the risks so much as it is accepting them as an unavoidable part of serving the greater good.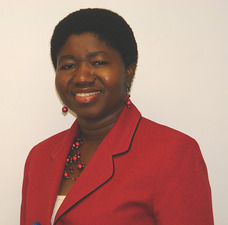 "I think it brings home the fact that medicine – no matter where you practice – is in a way a very sacrificial job," says Ayi. "You know you are placing yourself in harm's way, but someone has to do it. Someone has to make up their mind that they are going to care for people, no matter what, out of the love of their heart. Otherwise, people won't get the care they need."
Although she has access to all of the technology, medications, and protective gear an infectious disease specialist could want in her modern Sioux City hospital, Dr Ayi says the Ebola outbreak won't keep her from returning to Africa to carry out some big plans.
"Where I grew up, there were very few healthcare facilities and the villages had very few healthcare workers. I have a vision of helping to build a hospital for Ghana. This is what drives me – the chance to make a lasting difference in people's lives. Because, if people feel better and are strong, they can make the world better," she says.
As of our publication date, the Ebola outbreak centered on Guinea, Sierra Leone, and Liberia had a death rate of about 50 percent and had killed close to a thousand people.