Interviews with Dr. Jeff Johnson and Theresa Cameron, PA
Dec 02, 2013 10:05AM ● By MED Editor
Interview with Dr. Jeff Johnson, Lewis & Clark Family Medicine – October 22, 2013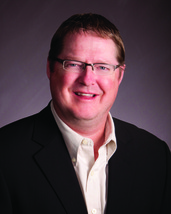 MED: Tell us about your background with electronic health records.
Dr. J: I'm a family physician in Yankton with Lewis & Clark Family Medicine. I am their primary care provider with this specialty hospital group.
I moved my practice from Watertown in 2009. We started from the ground up when we opened the practice in 2009. At that time we had no patient records and no patients.
We are facing a dilemma now because we are changing our EHR vendor. I'm spending an hour and a half to two hours a night doing charts when I get home. Too many clicks. Too much typing. I did not even know how to type before 2009.
I dictated and it was transcribed the whole time I was in Watertown.
You could dictate and have these records transcribed now, but, given the extra expense we have already incurred just to have the system, it would be way too costly.
I started this clinic with the help of some local docs financially. We could not generate enough revenue even though we had full groups of patients. So eventually I gave up the clinic and sold it to Lewis & Clark Specialty Hospital and am now an employee.
MED: How did you decide on your new HER system?
Dr. J: They originally wanted us to wait to get a different EHR system until they decided on a hospital EHR. Myself and my PA were of the opinion that there is really no vendor that does hospital and clinic EHR well. They do one well and the other less well, etc. We decided on a system recommended by the AAFP. The number one rated system for primary care physicians. The AAFP research indicated that this is the best one.
They may be able to integrate the two, although we do very little admitting to the specialty hospital.
MED: How does having EHR in place affect the care you give?
Dr. J: I think it helps me in that you do provide better patient care. It's all about trying to engage the patient more. We have better tracking, better referral information, better use since e-prescribing, drug interaction warnings. Sometimes another doc with prescribe something that contradicts something that I have already prescribed and this system can alert us to that.
In Watertown, we had probably 3 or 4 people hired just to find charts. It's much easier to pull up and track things in charts now.
It has hindered our ability to handle the volume. In Watertown, I would see anywhere from 25 to 30 people a day – max was 37. With HER you're down to 22 to 24 patients a day. Everything is template driver. If I download a template, I preload your exam. I have to go back and click the parts that are irregular. Have to go back and change bullet points in the chart.
Saving time with the new system could equate to higher volume. For instance, the new system will automatically preload the fact taht this patient is 65 and has not had a pneumovax vaccine. That's captured revenue for us. Before, we might not have known whether he had had it. Screening tests are all things that come in automatically.
It also will tell you who is due for appointments, etc. For instance, it is recommended that we see someone with diabetes every three months. It will tell you things like that.
We went with the system that Brown Clinic had.
I saw the writing on the wall. I was working in Watertown and they were working on implementing EPIC at Sanford.
What happened with me is that Healthpoint came to me and they were targeting small clinics. Before the day that they walked through my door, I'm not sure that I would have known what meaningful use was.
We are through Stage I Meaningful Use.
MED: What advice do you have for others who may be at earlier stages in this process?
Dr. J: First, I would recommend that you have someone come alongside and walk you through the meaningful use process. 
Secondly, when we went to look for our new system the gentlemen who worked with me looked at AAFP research. Then we went and did an onsite visit with a provider who was using it. The guy we went to visit in Tennessee, he was interfaced with the CDC, state vaccination records, etc.
Our old system, it was very frustrating. We didn't know how to use the bells and whistles. The girl we worked with wasn't a medical person. We found out if they were going to help us it would cost us more.
So you have to be aware what is going to cost you to do things. Is your vendor going to charge you more to implement ICD-10?
The biggest part of Stage II for us is a patient portal. The ability for patients to go into your record system and obtain their information and transfer to other providers. Having an effective patient portal, number 1, but also one that doesn't generate excess concern with the patients. Sometimes if they see unusual lab values and they get concerned and that can prompt extra calls which can require extra time.
The new system has a very good patient portal set up. We will get procedures and policies in line.
MED: Do you think EHR is ultimately going to be good for medicine?
Dr. J: I know several doctors who opted for early retirement and others that just don't see the value of electronic health records. Some were so close to the end of their career that they don't want to invest the expense.
It's hugely expensive – hardware, investment in resources, people to come on board and help you do stuff, etc.
There's a tablet in every room, all front rooms haves desktop computers, coders do. For a small clinic, that's a lot.
The guy we talked to in Kentucky increased his revenue by 40 percent. His volume dropped for a short period of time but he quickly got back up and going.
I think that ultimately it is a good thing. The First Do No Harm study found that many people died of medical errors. This does improve patient care and patient safety. But it also does increase doctor frustration. There can be fighting and noshing of teeth. But I do think it is the right, appropriate thing to do and good for docs to be held accountable. Practicing as good and as safe a medicine as possible is a good thing.
Patient privacy is certainly a big concern.
I am 50 years old. If I only have a few more years to live, I feel like I'd rather embrace it than fight it.
We are currently in the training process. We are building our database with the new system. Shooting for a January 1 launch.
--------------------------------------------------------/
Interview with Theresa Cameron, PA, Sanford Aberdeen – October 15, 2013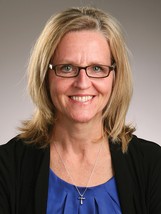 June 3rd of this year my granddaughter was diagnosed with T-cell lymphoblastic lymphoma, stage III. It was her half-birthday – she was exactly two-and-a-half. My daughter is a PT at Sanford in Vermillion. My daughter just thought it was strep throat. She just asked to get a strep test done. The doc said this doesn't look right. So they looked further and found it.
It is treated exactly like acute lymphocytic leukemia.
She was hospitalized at the Castle at Sanford.
I had a daughter-in-law pregnant at the time with many problems. She also had to be flown to Sioux Falls. So sometimes I had to go from one to other. After the baby was born, he was in the NICU so I was going back and forth from NICU to Sanford. I had to change my name tag when I went across the hall.
I wasn't a provider anymore – I was a grandma and a mother.
My granddaughter will have chemo for 3 years total.
Even this week she had chemo and if she needed anyone to come down there, it was easier for me to get off work than for my daughter to take off. I would tell my staff to keep my patient load as it is, don't add anymore. I was on call to take care of my granddaughter.
That's pretty much how my whole summer went.
Being a provider for 20 years, you have your family of patients. But your own family takes priority in times like this. It can be hard to break away from that loyalty you feel toward your patients.
Within the last six weeks, my granddaughter ended up in the hospital three times. It was really bad.
I don't do pediatric oncology or pediatric cardiology. So trying to decipher exactly what was being said and translate it for family members was sometimes tough. I understand T-cells and B-cells.
I have patients who are nurses and understand things. Sometimes you can know too much. You hear people say 'oh that's curable. I know someone else who had that.' But I know more. It's about the T-cells and B-cells. It can be worse knowing and understanding the deeper parts.
But I did a lot of research and had a lot of questions for the oncologist. I didn't want to annoy them. I had legitimate questions about her ANC count – if it drops to a certain level, no chemo, no daycare.
My daughter is a PT so she knows some medicine, too.
Family members would ask me, what does this mean, what does that mean? I don't know! I'm not a pediatric oncologist.
It can be really heart-wrenching.
When Cameron first went in, they couldn't intubate her because the mass was too large. So when they put a tube in her, I thought 'I can handle this'. But when they were doing the procedure, she was looking right at me. They drained more than 750 ccs from her lungs, while she was looking at me. I almost passed out. Her look was like 'Why are you letting them do this to me, Grandma?'"
You say, what's the risk? And they say 'Death'. And you're like like, oh my gosh.
But little children get well quickly, too. They puke and then they smile.
There are many phases to this problem. She has probably had 9 different meds. She has a port in now. She also has to have a lumbar puncture. She won't have to have radiation to the brain.
My grandson was born September 4th. He was born a month early. He had a congenital hole in his heart. He sees the pediatric oncologist. They live here in Aberdeen and he comes in and I listen to his heart.
He was in the hospital for 2 weeks. Mom had a kidney stone and was on high doses of narcotics. They had to induce her. They had to put a stent in and she was on heavy doses of medicine for that.
Baby had to go through withdrawal from narcotics. I knew that was something that he would have to go through.
Knowing these things… it's like "OK, I know this isn't good". Then HER family member would ask me, "What does this mean? What does that mean?" I try to play it down. It was very tough being both the provider and the mother. Trying not to make other people worry more than they need to.
The resilience of kids is amazing.
When I have very sick kids, they get sent to Sioux Falls. But to deal with it with the parents, I could understand where they're coming from.
When I talk to patients who have sick kids, you really feel it from your heart. It's natural to say 'It's going to be OK'. Now I can REALLY say 'I know how you feel'.
I feel like I have always been compassionate to my patients. But now the understanding is deeper and I can relate to it more. I know exactly how they feel.
Losing a child…. I can says I don't know how it is, but I know that my sister went through it and this is how she dealt with it.
My sister lost her husband and I lost a nephew at a young age to a bad accident.
Sometimes your tolerance for whining is not as good. You make them want to buck up. You want to say 'you think YOU have it bad'…. I don't, of course. But you do have to set yourself back a little bit and remember that this is serious to them.
I think it is possible to help them buck up a little bit. You can tell them 'You have a choice. You're in good health. You can get up and get walking and make a change for yourself.'
I think in the past I would have been more compassionate. I no longer want to enable these patients.
In my practice, I have had 5 with pancreatic cancer this year and I have lost 3. I have myself had abnormal mammograms. Interested in cancer? YES. That's really changed a lot.
My patients with cancer, they can talk to me about cancer information. When they say ANC and whatever, I really have an understanding of things. Now, every little number I see on my patients, I'm more attuned to things. It can be a little scary.
I do say my daily prayers. I even have patients who say they are praying for me. That helps me get through. But I also think about 3 years from now and look forward to reflecting on it and saying 'Wow – look what we got through!' You think 'Wo, I can't believe what I went through in June through September.'
I'm very blessed that I work at a compassionate place. My patients are pretty loyal. Some would see other providers. Fortunately, I have vacation time to last a lifetime. Again, I still have to work.
If we didn't have pediatric oncologists at Sanford, she's be going to Mayo. I'm astounded at how medicine has changed. We are so blessed. I remember when cataract surgery meant 7 days of bed rest in the hospital.
My other daughter is pregnant with identical twins. Due in April 4th. They are usually born early and they end up in the NICU and I'm ready for that. Maybe God is just preparing me.
It's not like you can just Google, 'How to deal with a relative with cancer'.