Dr. Pietila Receives Early Career Physician Award
Oct 02, 2013 10:47AM ● By Med Editor
Yankton Medical Clinic, P.C. Board Certified Pulmonologist, Michael P. Pietila, MD, FCCP, was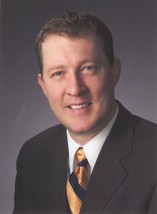 awarded the Early Career Physician Award by the South Dakota chapter of the American College of Physicians (ACP) at the annual state meeting in Deadwood, SD on September 11-13, 2013.
Dr. Pietila is a South Dakota native born and raised in Lake Norden.  His undergraduate degrees in Chemistry and Microbiology are from South Dakota State University and his medical doctor degree from the University of South Dakota.  Dr. Pietila completed his Internal medicine, Pulmonary Medicine and Critical Care training at the Mayo Clinic in Rochester, MN.
Dr. Pietila is the outgoing Chief of Staff and current Vice Chairman of the Executive Board of Directors at Avera Sacred Heart Hospital in Yankton, SD.  Currently he is an Assistant Academic Professor of Internal Medicine at the Sanford School of Medicine and has participated regularly at state ACP meetings as both presenter and moderator.
 The Early Career Physician Award recognizes outstanding achievement by a physician member who is within 16 years of graduating medical school and who is not an ACP Medical Student Member or Resident/Fellow Member. Areas of achievement may include leadership; academics, including publishing, teaching, and mentoring; and/or volunteerism.
 The American College of Physicians (ACP) is a national organization of internists-physician specialists who apply scientific knowledge and clinical expertise to the diagnosis, treatment, and compassionate care of adults across the spectrum from health to complex illness. ACP is the largest medical-specialty organization and second-largest physician group in the United States. Its membership of 137,000 includes internists, internal medicine subspecialists, and medical students, residents, and fellows.
In addition to seeing patients at Yankton Medical Clinic, P.C., Dr. Pietila has outreach clinics in O'Neill, NE; Creighton, NE; Plainview, NE; Osmond, NE; and Parkston, SD.