Allison Wierda Suttle, MD, Ob/Gyn, Yoga Instructor
Sep 10, 2013 09:12AM ● By Med Editor
Outsiders may assume that life moves at a slower pace here in the heartland. But events can still crash in on any of us with an all-too-familiar pattern. When the pressures of modern life threaten to overwhelm, the followers of yoga are adamant that their practice is the key to keeping mind, body and spirit from collapsing under the strain.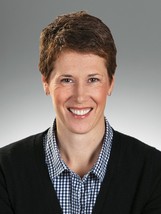 Allison Wierda Suttle, MD, is one of those followers. In addition to being a busy Sioux Falls Ob/Gyn with Sanford Health, Dr. Wierda Suttle also regularly teaches power Vinyasa Yoga at Santosha Hot Yoga in Sioux Falls. Her practical approach to a subject that may seem mystical to some sheds light on what yoga really is.
"I learned about the spiritual and philosophical parts of yoga, too, and all that is interesting," says Dr. Wierda Suttle. "But, for me, it is very much a physical thing and a tool for stress reduction that impacts your overall health. That's what I went into it for, and it's how I've stayed. Of course, it's almost an extension of my medical practice, now. I never set out to teach it, but what I found was that since I was already teaching my patients, it was a natural extension of that."
But does a yoga practitioner need to embrace the vast philosophies of yoga in order to benefit from it fully? In the book, Yoga as Medicine: The Yogic Prescription for Health and Healing author Timothy McCall, MD, agrees with many other yoga practitioners that, even if a student does not fully understand the depth of it all, he or she can still enjoy the full benefits of the art, simply by doing it.
"Stepping out of the crazy, fast-paced world to pay close attention to what's happening right then and there puts me in touch with a calm place deep inside me—deep inside all of us," writes Dr. McCall in his forward to the book. "It's like the stillness on the ocean floor that remains undisturbed, no matter how frantically waves crash on the surface."
In other words, results precede the understanding, to give practitioners the possibility of attaining true calm.  According to Dr. Wierda Suttle, when people who have attained that calm get together, they often form strong bonds.
"There's an immediate bond when you meet with people that do yoga," says Dr. Wierda Suttle. "You want to talk about the experience. When you spend so much of your life under stress, always looking to the future or looking back to the past, it is a relief that, when you're on your yoga mat, you just have to be present and relax. We don't do that enough and when you get the chance to do that with someone else, it can be quite meaningful."

How does an on-call physician manage to find the time to do this? Dr. Wierda Suttle says it would not be possible without a great deal of support.
"I think I'm able to teach because I have great support from my husband and also my partners. They are always willing to trade calls," says Dr. Wierda Suttle. "You do need a lot of support for this, but you make time for what's important to you and yoga gives you energy; it doesn't take it. In fact, some of my best yoga classes have been post-call. Instead of taking a nap, I'll go to yoga for 45 minutes and I'm completely revitalized. It definitely gives energy."
Yoga instructors come from all walks of life, from part-time fitness instructors to college students and business people.  As a physician-instructor, Dr. Wierda Suttle says the opportunity to subtly incorporate her medical knowledge into her teaching has made the experience that that much more enjoyable and meaningful for both her and her students.
"I think the most exiting thing is to take a little bit of my medical background, in the way of anatomy and physiology, into the classes," she explains. "When that happens, there are some real 'ah-ha' moments for some students. I've had people from my classes come up and say, 'Wow, that was really great when you talked about the thyroid function and how that particular yoga pose can impact it.' When my medical degree applies to the yoga mat like that, it's very satisfying."
Interview & article by Darrel Fickbohm