Book Review: "God's Hotel - A Doctor, a Hospital, and a Pilgrimage to the Heart of Medicine"
Sep 07, 2013 06:38PM ● By MED Editor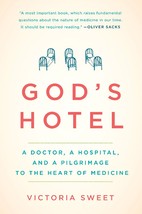 "God's Hotel" by Victoria Sweet is a physician's own account of the 20 years she spent practicing in San Francisco's lower-tech but human-paced Luna Honda Hospital, the last almshouse in the country and a descendant of the Hotel-Dieu (God's hotel) that cared for the sick in the Middle Ages. In a May, 2012 review, the New York Times called the book a "transcendent testament to health care past" and enthused that it's "compulsively readable chapters go down like restorative sips of cool water, and its hard-core subversion cheers like a shot of gin". Sioux Falls Family Doctor Patty Peters, MD, recently read the book and was eager to share her impressions with MED.
MED: Where did you first hear about God's Hotel and what prompted you to read it?
Dr. P: It was chosen by the Friends of Augustana as one of the books they would read and discuss and the description was very interesting to me. There is so much here – history, politics, philosophy, medicine – that I knew it would be a good one for discussion. I actually finished reading it while I was at the National Congress of the Supportive Care Coalition, an organization that promotes palliative care. This book has a lot to say about meeting people where they are in their lives and meeting their needs and I ended up telling a lot of people about it at the conference.
MED: What did you find particularly enjoyable about the book?
Dr. P: It's really a very engaging book, and not just for physicians. But, because I am a doctor, I think it was even easier for me to identify with the author. Like any of us, she has seen changes in medicine driven by government, community affairs, internal politics, etc. But a lot of what made the care excellent at her hospital was that, in many ways, it was practiced in a way that has largely disappeared. The author talks about the luxury of being able to go into the wards and see these people interacting and their lives unfolding over days and weeks. This level of personal contact and personal understanding was what enabled her to give better care. Most of us are never able to spend an hour or two with a patient, so it's fascinating to see how this institution made it work. And it is a reminder how valuable it is to really be with patients in order to understand their issues, their family problems, and even the disease. It's the whole 'Tincture of Time' idea. We don't always have a pill or a surgery that is going to fix somebody in a week. Sometimes we have to let nature take its course and do the healing.
MED: What is the 'heart of medicine', according to Dr. Sweet? Do you agree?
Dr. P: The heart of medicine that she is talking about is the connection that you have with your patients that can only come from taking the time to listen and understand their story. Giving people time is key, time to talk and time to heal. This is something we tend to lose sight of, but yes, I agree this is the true heart. But the book is really about so much more. So many things are intertwined in it – including information on her study of the German nun who became something of a healthcare guru, Hildegard of Bingen. I would highly recommend this book to anyone with an interest in medicine, history, philosophy or even just human relationships. It was fantastic.