Distinguished General Surgeon to Receive Prestigious Spellman Award
Sep 06, 2013 12:40PM ● By Med Editor
Sioux City, IA:  The Mercy Medical Center Foundation is honored to have chosen Dr. Mike Wolpert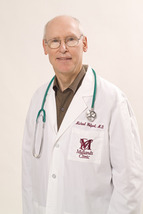 as the 2013 recipient of the Dr. George G. Spellman Annual Service Award.  Dr. Wolpert was nominated for the Spellman Award by his colleagues at Midlands Clinic, P.C.
Dr. Wolpert is a general surgeon and has served the Siouxland community for over 30 years.  Dr. Wolpert is a member of the American College of Surgeons, The Catholic Medical Association and a fellow with the American Board of Surgery.  He is a past member of the Iowa Medical Society, American Trauma Society, American Society for Metabolic and Bariatric Surgery, and the Society of Laparoendoscopic Surgeons.
Dr. Wolpert has served as Trauma Medical Director at Mercy Medical Center, and currently serves on the Medical Staff Credentials Committee as well as the South Dakota State Medical Association.  Dr. Wolpert has served his community through volunteer service.  He is a past member of the United Way of Siouxland Board of Directors, Queen of Peace Board of Directors, and has coached Junior High boys and girls basketball at Blessed Sacrament schools.
Born in Sioux City and raised in Onawa, Iowa, Dr. Wolpert was one of nine children.  He has four brothers and four sisters, most of whom are in the medical profession.  Dr. Wolpert and his wife Joanna have four children.  Their son has just finished his residency in general surgery, and their daughter is a nurse anesthetist.  Their other two children are involved with the arts. 
The Mercy Foundation established the Dr. George G. Spellman Annual Service Award in 2002 to recognize those who not only exemplify the values of Mercy but those whose actions contribute to the betterment of the Siouxland community.  In establishing the award, the Foundation's members were motivated by a sincere appreciation for the volunteers, staff and their families and others whose energy, selflessness and compassion contribute to the quality of care that Mercy provides.  The Foundation is pleased to present this award to Dr. Wolpert at the Mercy Medical Center Foundation Fall Gala on November 2, 2013 at the Marina Inn. 
Past recipients of the award include the late Dr. George Spellman and Mrs. Carol Spellman, Martha Burchard, the late Russell Christiansen and Marilyn Christiansen, Hospice of Siouxland,  Jack and Barbara Aalfs, Dr. Theodore Roman, Eldon and Regina Roth, Dr. Michael Jung, Dr. Jack Michalak, Dr. Gary Carlton, and Verna Welte.